5 Rings From VANCARO That Women Will Want To Add To Their Wish Lists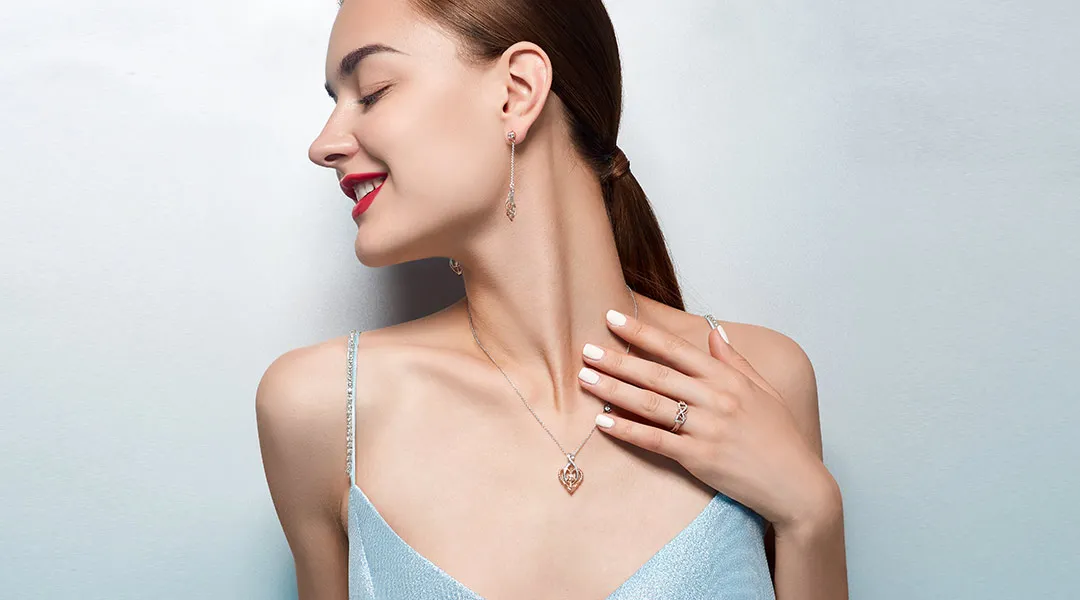 With Unique Design,Creative Style, Reasonable price, you might as well get one too.
What you love will stay with you all the time.
1. Noble And Gothic Style Ring
Product Introduction:This ring shows a retro and elegant feeling in terms of shape and color aspects, three-dimensional part of the side looks like a pair of angel wings. It's finely textured and intricately sculpted to resemble lace.With wearing this delicate piece every day, may it bring you more confidence.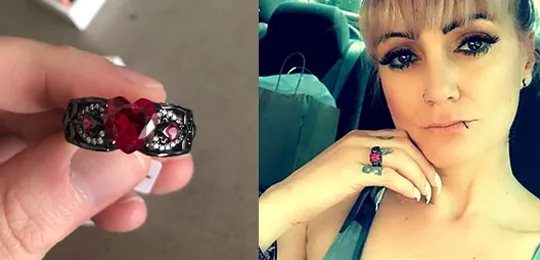 Promising Review: "Purchased this for my daughter for her Sweet 28th Birthday and she loved it. The ring is beautiful, color is very nice and is well worth the money. The heart was to remind her of our love for her and the cubic zirconia to remind her to shine as she always does. She loved the ring and the sentiment! Thanks for getting it here in time. Her smile was well worth the money! Thanks again."
Recommended Reason: Everybody needs A Gothic Ring! For celebrating love and eternity with romance and refinement. It's just A Timeless Design. And the ring will reminds you the love will stay with you all the time. Even sometimes it's a little far from you, it will fly to you with the wings.
"Not every angel is born with wings, some whose hearts are filled with love and kindness earn them over time."
2. Classic And Elegant Style Ring
Product Introduction: With the sparkling little round Cubic Zirconia stone inlaid the silver infinity symbol, and the rose gold colored heart in hemp rope shape with an anchor, those three symbols together made this gorgeous engagement ring, symbolizing the love will never fade between two lovers, and he will protect her to the end of life.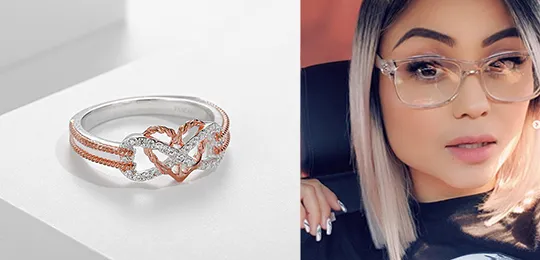 Promising Review: "I couldn't believe how delicate this ring was!! This ring is absolutely gorgeous and I actual took off a ring that I've been wearing for 2 years, never taken off to put this ring on... I'm in absolute love with this ring, don't question it just hit BUY NOW!!!!!! There's nothing about this ring I don't like! If I could give it 10 stars I would!!!this ring is that awesome!"
Recommended Reason: As we all know, the anchor represents stability and strength. Inspired from the meaning of it, we designed this infinite love jewelry. Combined with "Anchor" and "Infinity", this ring interpret the greatest love in the world.
"Hold my hand and hold my heart as we write our future together."
3. Mysterious And Romantic Style Ring
Product Introduction: The northern lights flush the sky with the stories we weaved together. We leaned back, letting the colors wash over us and painted new dreams for us to follow. Love is like the Aurora, colorful yet mesmerizing, precious yet always there. Inspired by the romantic Aurora starry sky, we made this glorious ring with a mesmerizing 8*8mm, 2.00ct heart-cut mystic topaz and lab opal inlaid, meanwhile, it was crafted in black tone to make this color collocation completed. This romantic V-shape adds a touch of feminine and elegance to your look.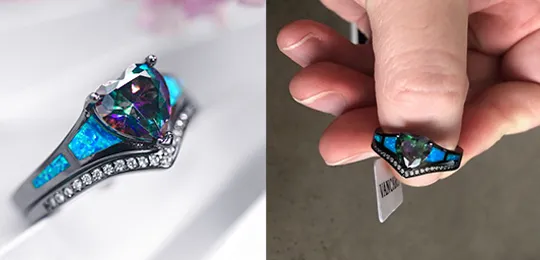 Promising Review: Oh WOW! I'm Speechless!! okay, I'll try to recover some words here. The stones just spark & shine & twinkle w/a mix of green to purple fantastically!! The black gold makes it so mysterious & romantic..... one of a kind. Who knew there was black gold, & it could be used to such effect! I cannot stop looking at it. Just very mesmerizing & it looks just like the picture. My regular size 7 was just a bit snug w/this ring, so order up if you're between sizes. I love this ring so much that I found earrings to go with it here. I'd love to have them set in the black gold to match the ring. Just get it! You'll have no regrets! It's love at first sight.
Recommended Reason: It will always be a mystery to me how much I love you. Mystic Topaz has meaning and properties of warding off evil spirits. This stone can strongly drive away negative energy. And Bring you more love and energy. Our love is a mysterious journey.
"True Love are burning stars.They shine brightest on those darkest nights."
4. Liberty And Ocean Style Ring
Product Introduction: Exquisitely crafted in 925 sterling silver, we daringly reinterprets the butterflies in blue lacquered. Exuberant and beautiful, an approximate 1.00ct center sapphire is surrounded by two smaller sparkling round cubic zirconias. She is made for women who want to go through their own transformation, and opulence is something they are born with.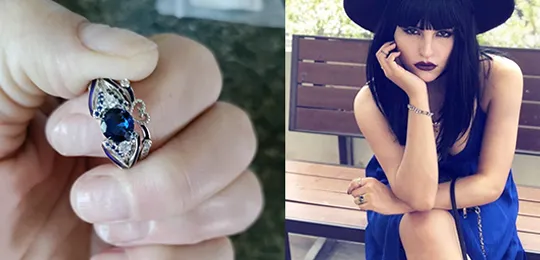 Promising Review: I love it. It's really nice. I'd say plan 2 weeks ahead. It's not big and I like that about it. Very settle but elegant. Real Sterling silver. It won't turn your finger. I haven't had it long enough to test it's durability though. But I have faith in it.To whomever may be looking for something special this was it for me. Less is more.
Recommended Reason: Feel the Freedom with the Blue Sapphire Ring. Graceful butterflies take flight, blending the intense blue tone of stone with a luminous blue Enamel like a wonderful ocean. Adorn yourself with a a taste for beauty and harmony. It expresses love and gratitude as deep as the ocean—give something exceptional to that special person you wish to celebrate with.
"Blue is the water waving gracefully over the rocks.
Blue is the feeling of peace and calm.
Blue is the color I chose to make a poem"
5. Fresh And Pastoral Style Ring
Product Introduction: Although the elements of flowers is very common, but it's very difficult to think about how to make it unique and fashion. Although it seems exaggerated that one 7*7mm, 1.25ct yellow cubic zirconia is surrounded by four daisies, but the exquisite design ratio and match of color will make you feel surprised.If you are a person who is not good at expressing your pure love for her, please choose this ring, it can help you to convey your message; if you want someone to stay forever in your heart, please choose this ring, it allows you to think of him/her everytime you see it.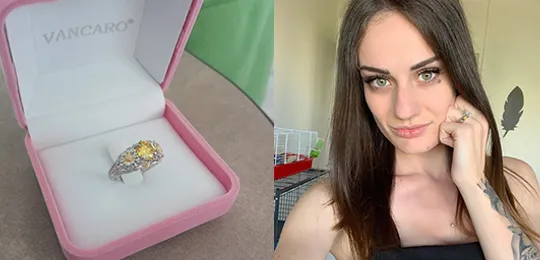 Promising Review: This is a cute ring my girlfriends moms name is Daisy and she's the cutest little lady….when I saw this I immediately thought of her…which means "I think of you every Daisy" It fits her well and I really love it.
Recommended Reason: Blossom up like a sunflower! It is blooming everywhere with the Yellow stone and flower shape. High noon in summer, sparkling sunflowers light up the surface of a lake of crystalline water. Watch your step and enjoy your time in Vancaro.
"I wanna plant a row of daisy seeds. They'll remind you of your beauty and uniqueness all the time."